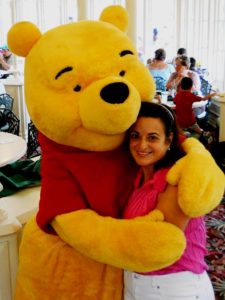 Last week was National Nanny Recognition Week, and as we have done in previous years, we have selected a nanny that stands out as our Nanny of the Year. For 2014, we are proud to announce that our Nanny of the Year is Sonya!
Sonya has been working in childcare for over 15 years. She grew up in a small town near the Canadian border, and received her degree in Elementary Education from SUNY Plattsburgh. Sonya first came to A New England Nanny in 2004 and has worked with three of our families as a full-time nanny. She has also worked with families through the temp program and has been wonderful. She has chosen to be a nanny as her career, her commitment to her families is remarkable, and she loves what she does!
When she is not working as a nanny caring for her 18-month-old charge, she enjoys spending time reading, camping, visiting with family and friends, visiting with her past families and catching up on how everyone is doing, and as you can see from her photo, going to Disney! Sonya currently resides in Cohoes with her husband and her cats.
Sonya has been recognized as our Nanny of the Year for all that she has contributed to her families and continues to do!
We are very much honored to have Sonya as a part of our staff here at A New England Nanny. Please join us in congratulating Sonya!