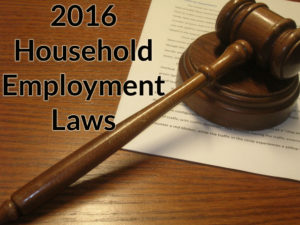 It's a new year, and with that come changes or new laws and regulations that impact employers across the country, including household employers. Here is a brief overview of 2016 household employment laws.
Minimum Wage
The minimum wage went up again in this year in New York, rising from $8.75 to $9 per hour. Household employers need to ensure that they are paying their nanny or other employee at least that amount. If you are already paying an employee more than the minimum wage, you are not required to increase their rate of pay.
Mileage Rate
The standard mileage rate changed on January 1st of this year to 54 cents per mile for business miles driven, a decrease of 3.5 cents from 2015. This applies to employers who ask their nanny or other employee to use their own vehicle when performing work-related duties (transporting children, running errands, etc.). Household employers affected by this change should make sure to revise their expense reports and policies accordingly.
Nanny Tax Threshold
Also note that for 2016, the domestic employee coverage threshold amount has increased to $2,000, up from $1,900 last year; this means that you are required to pay taxes if you pay a nanny or other household employee at least $2,000 in a year. For those employees that earn more than $200,000 in a year, employers are required to pay an additional Medicare tax of 0.9%.
For more information, contact us at (518) 348-0400.