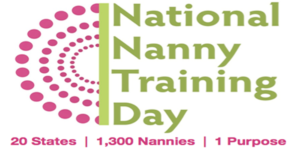 On April 21, 2018, A New England Nanny will host a regional event for National Nanny Training Day! This year will be bigger and better than ever.
We're excited to be in a new location this time – the Capital District Child Care Council (CDCCC) in Menands! They have a wonderful space for us to host our event.
Here's a look at what we have planned for the day:
A workshop by Kathleen Harland, an Infant and Toddler Specialist at the CDCCC. Kathleen will offer tips and advice for caregivers with kids in this age group.
A discussion with Charlene Therrien, a long-time senior caregiver with our agency. Charlene will talk about the growing demand for senior care, along with helpful hints on caring for and working with seniors.
Miranda VonFricken is a Motivation Coach and will be at our event to help our caregivers with setting personal and professional goals, along with personal wellness.
CPR training for those who are not yet certified.
Lunch will be provided as well, along with raffle prizes and great giveaways.
Register here for this free educational event!