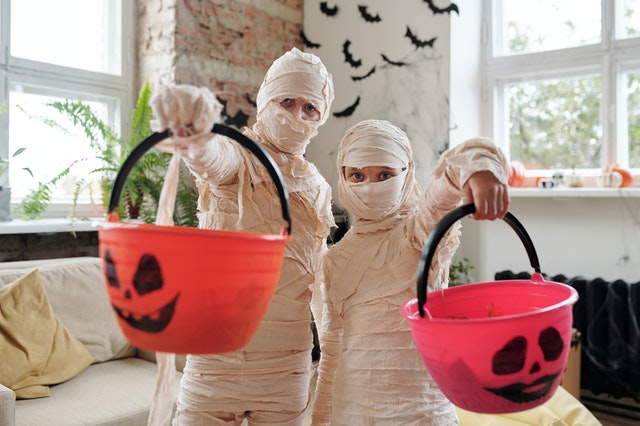 The leaves are changing colors, the air is getting chilly, and it's almost time for the little ones to dress up and fill their bags with goodies. But this year, as we know, is not like other years before. The risk of contracting and spreading the coronavirus is still a serious concern, but that doesn't mean Halloween has to lose its fun – parents and kids just need to keep certain things in mind for Halloween activities this year. The Centers for Disease Control and Prevention (CDC) offers the following tips for how to trick or treat safely during COVID-19.
Make trick-or-treating safer
Avoid direct contact with trick-or-treaters.
Give out treats outdoors, if possible.
Set up a station with individually bagged treats for kids to take.
Wash hands before handling treats.
Wear a mask.
Wear a mask
Make your cloth mask part of your costume.
A costume mask is not a substitute for a cloth mask.
Do NOT wear a costume mask over a cloth mask. It can make breathing more difficult.
Masks should NOT be worn by children under the age of 2 or anyone who has trouble breathing
Stay at least 6 feet away from others who do not live with you
Indoors and outdoors, you are more likely to get or spread COVID-19 when you are in close contact with others for a long time.
Wash your hands
Bring hand sanitizer with you and use it after touching objects or other people.
Use hand sanitizer with at least 60% alcohol.
Parents: supervise young children using hand sanitizer.
Wash hands with soap and water for at least 20 seconds when you get home and before you eat any treats.
Remember to always
Wear a cloth mask
Indoors and outdoors, stay at least 6 feet away from others who do not live with you
Wash your hands or use hand sanitizer frequently
Download the CDC's infographic for more information.
Could you use some help during Halloween activities? Maybe someone to play with children too young to trick or treat while the older kids go out? Or someone to help give out candy at your home while you go have fun with your children? A New England Nanny's caregivers are all treats – no tricks! Contact us at (518) 348-0400 and let us know how our nannies, babysitters, housekeepers, pet sitters, and more can make your Halloween better this year.