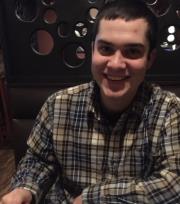 With school schedules still unclear and many parents concerned about safety, an after-school tutor might be what you're looking for. And we can help! We'd like to introduce you to our new in-home teacher.
Meet Jonathan
Jonathan is available as an after-school tutor every day after 3pm. He has his Masters Degree in Social Studies and Secondary Education. He teaches in the Stillwater school district and is looking to help families who may need additional tutoring for the school year.
Jonathan is a New York state-certified teacher with experience in all subjects from being a substitute.
"Being a substitute teacher has allowed me to learn some of the other subjects in school well enough that when I am a sub, I am able to give students some guidance and help when they ask for it," he says.
But that's not the only benefit he's seen from his teaching experience.
"I also believe that subbing has made me flexible when working with students because I am not often in the same classroom every day," says Jonathan.
His rate is $22 per hour for 2-3 hours, and $20 per hour for longer hours.
Please contact us at (518) 348-0400 to request Jonathan, or if you need any help with child care, senior care, housekeeping, running errands, and more!