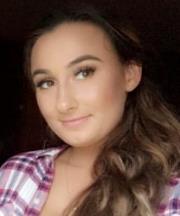 With some parents wary of sending their children to school or daycares this fall, many may choose to have them learn at home. If you're looking for help with child care for the back-to-school season, we'd like to introduce you to a fabulous in-home teacher!
Meet Laura
Laura enjoys being around children and she has an associate's degree in Early Childhood Education. Her skills include, multitasking, patience, and most importantly, communication. Laura strongly believes that a child care provider and the parents should have open communication, as it makes for a trusting relationship all around.
Laura has wanted to be a child care provider since she was little. Her mom always said she would be great at it, because of how much Laura loved to talk. Working as a preschool teacher for four years enhanced her knowledge of how to handle situations with children and families to make sure that the child is not only enjoying the environment that they are in, but learning new skills every day.
Laura enjoy the outdoors, and when working with children, she tries to come up with fun activities so the children can be active and enjoying time outside.
"Caring for children is truly rewarding for me," Laura says. "I feel that being able to help a child grow and have fun learning in life is helping the world one kiddo at a time."
"One thing I want out of this world is to have an impact on people," she says. "I love the saying 'Everyone remembers their favorite teacher or caregiver,' and that's the person I want to be."
Please contact us at (518) 348-0400 to request Laura, or if you need any help with child care, senior care, housekeeping, running errands, and more!