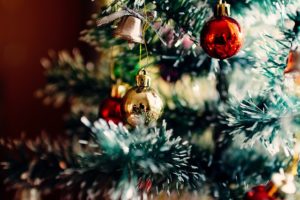 Six years ago we posted about a debate between our Director Melissa and our Assistant Director Debra about whether it's better to get a real Christmas tree or a fake one. With the holidays just around the corner, we thought it would be fun to revisit that post and see if people's opinions are the same as they were six years ago!
December 2012:
In last week's newsletter, we posted a link to an article highlighting the pros and cons of real trees and fake trees. ANEN's Melissa and Debra have been debating this topic ever since, and we'd like to hear your opinion!
Here is Melissa's argument in favor of fake Christmas trees:
"The price of real trees each year goes up and up. Real trees are now $40 dollars and up! Yes, they smell wonderful and give the feeling of being outdoors, but $40 a year for a Christmas tree seems a bit much. I personally like the idea of spending the money for a nice fake tree and being able to use it year after year. I have had my tree for over 10 years, and it still looks brand new! Plus the lights are already strung on, saving time every year; and there are never any needles to clean up off the floor! If you are seeking that real tree smell, they make a pine-scented spray. I understand the how it can be rewarding to go with the family and cut down or pick out a real tree, but all I have to do is go down to the basement, pull out the box, set up the tree, and decorate."
Debra now weighs in on her support for real Christmas trees:
"I get that fake trees are easy and save time. But when I had a fake tree, my basement got musty and my tree smelled badly! We even stuck a pine-scented car freshener on it!  I used that $80 fake tree for two years and half the lights went out. So this year we got a real tree, and it was only $30! Yes we had to drive a little while, cut it down, tie it to the car, drag it up the stairs, and water it every day; but it's really pretty and it was fun! We will do this every year.  It was enjoyable for my whole family, the tree smells wonderful, and it just makes the holiday more festive!"
Did you get a tree this year? Real or fake? Which side of this debate do you support? Please tell us why, and have a great holiday season!