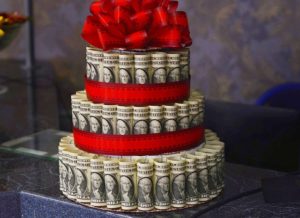 'Tis the season where we usually post a list of gifts that families could give their nannies. But many families – either in addition to or in place of gifts – opt to provide a financial boost to their household employee. But how often does this happen? Do nannies expect it? Should you give your nanny a holiday bonus?
According to a recent survey by GTM Payroll Services of household employers across the country, 41% of families give their nanny a holiday bonus. A different survey conducted by the International Nanny Association (INA) showed that 60% of nannies received a holiday bonus. It's important to keep in mind that a holiday bonus can come in various forms – it doesn't have to be just an extra cash payment. 81% of those surveyed by GTM offer their nanny paid vacations, 80% offer paid holidays, and 75% offer paid sick days. These are ways to give a nanny some financial well-being without just cutting a check.
Regarding paid holidays, it's good to keep in mind that nannies have families too, and surely many of them would like to be at home during certain holidays. If you will need your nanny on a holiday, they should be compensated at least 1.5 times their regular wage to show how much you appreciate them working for you during this time.
Also interesting to note from the survey is that 94% of families give their nannies a holiday season gift of some kind. That could be in the form of a bonus, but there are many other gifts that nannies could use and appreciate. Gifts can also come in the form of perks or privileges. According to the survey, 65% of families allow their nanny to use the home's internet, 36% reimburse their nanny for transportation expenses like gas, bus fare, or mileage, and 31% let their nanny use a family car.
If you do decide to give your nanny a holiday bonus, how much should it be? The average bonus is one week's wages; this of course can vary, but one week is the general norm. Nannies that have been with a family for a long time may get more, while newer employees could receive less. A bonus is always up to the employer and things like longevity, performance, and family budget all factor into it.
It's important to remember that a holiday bonus should not replace or affect an annual pay increase. 27% of those surveyed give their nanny a gift on their anniversary, but if you choose to give your nanny a job anniversary bonus, an additional holiday bonus is not usually given as well.
Many people choose to tip their mail carrier or their garbage collector during the holiday season. Nannies are more than a service provider – you trust them to care for those you love, and showing your appreciation during the holidays – through whichever form you choose, bonus or otherwise – helps keep that bond strong.
Contact us at (518) 348-0400 if you have any questions. Happy holidays to you and your nanny!