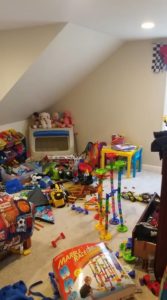 The holiday season has officially come and gone, leaving us with an abundance of memories with friends and family, bellies full from homemade meals, and the delighted squeal of the children when they excited rip into brightly colored presents.  Something else the holidays have left behind?
Clutter…So. Much. Clutter.
While the process of organizing your home after the holidays may seem daunting, it doesn't have to be! With a quick call to the A New England Nanny team (518-348-0400), we can schedule a professional housekeeper or home-organizer to come to your residence, and we'll help you cross that "Reduce Clutter" resolution off your list.
Eager to get started? Here are a few tips and tricks to help you with one of the most daunting parts of your house – the kids' rooms.
Before you start this project, here are a few things you'll need:
The name, address, and hours of operation for your local charity center or drop-off location of your choice. Please keep in mind that while donations are always appreciated, the items need to be in a good, clean, and useable condition. Many facilities do not take dirty, damaged, or extremely outdated items, while others do not take stuffed animals, undergarments, or board games. It is always a good practice to check their website or speak with a donations coordinator for a list of acceptable items.
Cardboard boxes or large, clear, garbage bags.
Packing tape
Permanent marker
Clear storage containers, preferably with latching lids
Paper and pen, to keep a list of your donations (if you are donating to a 501c3 and plan to write the donation off of your taxes).
A gentle reminder: what seems unimportant to you may be very important to your child. If your child is able to help clean their room, limit your expectations to their given attention span, and utilize their energy while you can. Ask them to pick out their 3 favorite stuffed animals and put them on the bed, or make a pile of books that they'd like to give to some new friends, etc.
If their room looks like the photo at the top when you start, take a deep breath and try not to get overwhelmed! According to Montessori Method of Children's Education, children enjoy being able to find things quickly and easily, but it is necessary for them to be "meticulously arranged and available for use in an aesthetically pleasing environment." While the worlds "meticulous" and "child's room" don't typically go together, it is possible to implement some of the strategies of the Montessori Method at home.
Using masking tape and a permanent marker, label three large bags as follows:  Keep, Trash, and Donate. If your child is old enough to understand and make decisions, ask for their help! Broken toys, used-up art supplies, and books which are ripped apart/chewed on/missing pages should go right in the trash bag. Toys which are in "like new" condition, games with all of their pieces, and stuffed animals which need new loving homes, can be donated. Clothing that is still the correct size, toys that are played with often, and sentimental items, should be kept.
Clothes should be sorted by size, and then by season. If possible, fold clothes that are out of season and pack them in the cardboard boxes (if they will still fit when that season comes around again). Be sure to label each box with "Size/Season" before putting them in storage. Clothes that no longer fit should be written down on your donation list and put into the "Donate" bag, or a cardboard box labeled "sizes x-z" with "DONATE" written on the box as well.
Once you've separated the clutter into the three categories, remove the trash and bring the items to be donated to the donation center. The sooner these things are out of the house, the more room you will have, and the easier it will be to see the progress you've made.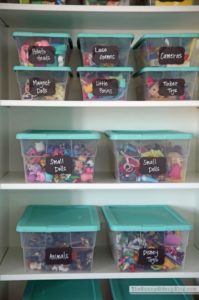 After the items that you aren't keeping have left the room, take a moment to figure out what causes the most clutter in the area. Are there toys which have a lot of little pieces (foam darts, building blocks, doll accessories)?  If so, dedicate one of the clear storage containers with a latching lid to that specific purpose. You can apply a strip of clear moving tape to the front of the container and the top of the lid, then write the contents on that tape. This allows you to reuse the container by simply peeling off the tape at a later time. Having the smaller items in clear storage containers allows the child to see what they are looking for, without having to empty a solid colored box upside down (and creating a huge mess in the process). For younger children, this will also make clean-up a responsibility in which they can participate. They will be able to see what's in the boxes, and group like items together.  (Remember to enthusiastically cheer when they do this – the bigger your reaction, the more likely they are to repeat the behavior!)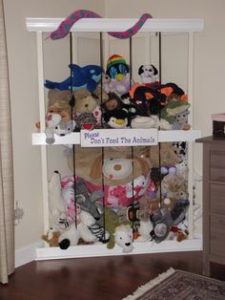 Does your child play with and collect stuffed animals? Perhaps it's time to invest in a stuffed animal hammock to hang diagonally in the corner of a room. Or if you're up for a creative challenge, you can search for plenty of "D.I.Y Stuffed Animal Zoo" tutorials on Facebook (and while you're there, be sure to "like" and "follow" A New England Nanny). While creating a stuffed animal zoo may seem like it would take up a lot of space, you have to determine which takes up more room and causes more of a mess – the zoo, which would store all of the stuffed animals, or the animals themselves when they are strewn over the room while your child digs for that one particular stuffie that they would like to sleep with on any given night.  With stretchy vertical 'bars', your child will be able to see which one they'd like, take it out, and put it back themselves.
Once you've completed the steps outlined above, there should be less clutter, less mess, and less stress for you and your child. It is much less of a daunting task to repeat this process several times a year, or at the very least around the child's birthday and again around the new year – both of which are typically periods of growth and incoming clutter (gifts) for your child to enjoy.