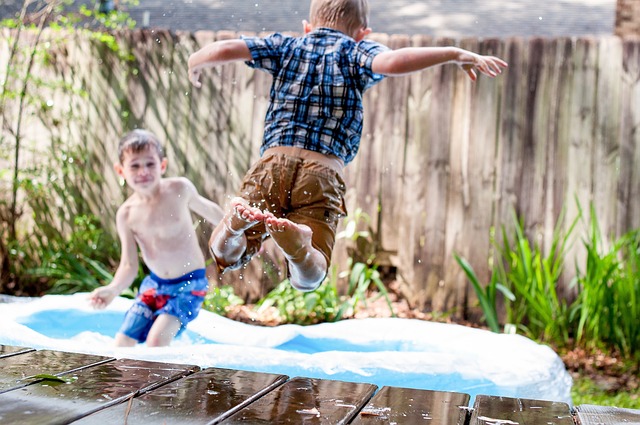 It's hot out there! Perfect weather for jumping in the pool or a lake, leaping over waves at the beach, splashing in a river, or even just flopping into a plastic tub in the backyard. Whatever type of water activity you and your kids enjoy, staying safe has to be top of mind…including when the children are in the care of a nanny. Parents.com offers these helpful water safety rules for parents and nannies to make sure everyone stays cool and healthy this summer.
8 Life-Saving Water Safety Rules Every Parent Needs to Know
Rule #1: Never take your eyes off your child when she's in or around the water. Kids who are not yet experienced swimmers need constant touch supervision when they're playing in or near a pool or at the beach.
Rule #2: Ignore your phone. Keep it charged and with you, but looking at a text message for just a few seconds is long enough for a small child to be submerged.
Rule #3: Don't rely on water wings, inflatable toys, floating loungers, or pool noodles. If your little one is a nonswimmer, it's okay to let him/her use floatie toys, but only if you're right there next to them in the water.
Rule #4: Sign up your child for swimming lessons. The American Academy of Pediatrics (AAP) recommends that all children ages 4 and older take swimming lessons. But don't let lessons give you a false sense of security: Regardless of ability, all toddlers and preschoolers need a caregiver at their side in the pool.
Rule #5: Make older kids buddy up. Pair your child with a friend or a sibling, and explain that each kid is responsible for knowing where her buddy is at all times. But don't forget that a pal doesn't replace adult supervision; the system serves as a supplement.
Rule #6: When there's a crowd, put a parent on lifeguard duty. At a party or a gathering, it's almost guaranteed that parents will get distracted and look away from the pool at some point. If there are more than a few kids, designate multiple water watchers, with some swimming in the water with the littlest ones and others standing where they can observe the entire group.
Rule #7: Teach your child the rules. For easy memorizing, stick to these five: no running, no diving in the shallow end, no pushing people in, no pulling other kids under the water, and no swimming without adult supervision—ever.
Rule #8: Learn CPR. If the worst happens and you have to rescue a distressed swimmer, conducting CPR while you wait for an ambulance to arrive could save that person's life.
Looking for a summer caregiver? We've got nannies and babysitters that can take care of your little ones a few hours a day, or full-time all week. Call (519) 348-0400 to get started. Here's hoping you have a fun and safe summer!