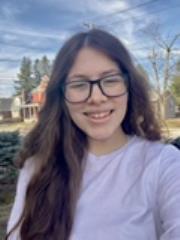 Finding a trusted professional to care for your family is never easy. You need someone that will not only be fun and engaging for children, but will ultimately provide you the peace of mind a parent needs. And if you have children with disabilities, you need someone with the right skills to communicate and engage with them. Well, you're in luck – we have a professional, experienced caregiver for you to meet!
Meet Amber
Amber has experience with children of all ages, from 6 weeks to 12 years. She has worked in daycares, summer camp programs, and has extensive babysitting experience.
Amber also has experience with children with disabilities; she taught her students the basics of sign language so they could communicate with the children in her care that can't communicate any other way .
Being creative is very important to Amber, as she feels it helps with cognitive and language development. She loves arts and crafts and being creative in helping children reach their milestones of development.
In her free time, Amber loves painting and drawing, photography, and softball.
Amber is looking for a family to work with long-term for the next few years. She is also happy to do temp work whenever her schedule allows.

Contact us at (518) 348-0400 to request Amber or another of our amazing caregivers.

And let us know if you need any help with in-home learning, senior care, afterschool tutoring, pet sitting, and more!