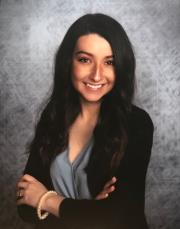 Finding a trusted professional to care for your family is never easy. You need someone that will not only be fun and engaging for children, but will ultimately provide you the peace of mind a parent needs. And with summer coming up, your needs may be changing. Well, you're in luck – we have a professional, educated caregiver for you to meet!
Meet Maeve
Maeve is a current graduate student with more than four years of experience working in an elementary school. She has also been a caregiver for babies, toddlers, and older children.

"I absolutely love kids and am looking to continue working as a nanny while I complete my Master's degree," she says.

Maeve is seeking a full-time nanny position and would love to be with one family for the next year or longer. She brings with her not only her experience of working in the school system as a substitute teacher, but most recently as a nanny caring for an 8-month-old little one.

In her free time, Maeve loves to relax and enjoy time with her family.

We are so happy that Maeve has joined our team. She would love to help you with your child care needs!

Contact Melissa at (518) 881-0202 to request Maeve or another of our amazing caregivers.

And let us know if you need any help with in-home learning, senior care, afterschool tutoring, pet sitting, and more!