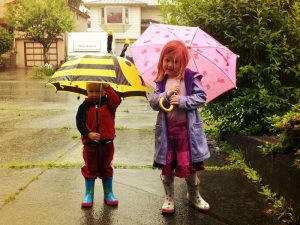 One of the things many people love about the Capital Region is the wide diversity of seasonal activities that can be found both locally and within short driving distances. There are lots of places for children of various ages to have fun during the summer months, but what about when the weather limits your options?
We've been in the child care business for over 25 years, so we have some experience with keeping kids entertained when schools are closed. The list of activities that follows was partially compiled from our experiences with our own children, but we also spoke with some of our caregivers about what they like to do with their "nanny kids" on those days where you just don't want to make the effort to get everyone dressed and in the car, to keep the kids entertained without leaving the house.
Build a Fort
If your kids are anything like ours, they'll relish any chance they get to rearrange furniture, cushions, pillows, etc. Have them build their own individual forts, or see how large you can make one as a group. This gives the kids a chance to be creative, learn a little about gravity and architecture, and do something they probably aren't normally allowed to do. And if you're so inclined, use those forts for an epic Nerf gun battle!
Indoor Picnic
Here's another way the kids can get to do something they might not be permitted to do – eat in a normally non-eating area! Grab a tablecloth (or two) and spread them out on the floor. Have the kids help make lunch – if you have a picnic basket or cooler, pack the lunch in there and then take a "nature walk" to your newly-created picnic area, and enjoy the meal.
Bake Cookies
Not only does making cookies work as an incentive for good behavior, but the process helps kill some time and gets the kids involved in something fun. Use the opportunity to teach grade-school kids about the science of cooking – what does each ingredient contribute to the recipe? What exactly is "vanilla extract?" Come up with some creative ways to change your usual cookie recipe by letting the kids add other ingredients. Having a variety of food coloring bottles always helps. Then enjoy the fruits of your labor!
Scavenger Hunt
We've done a few of these for Christmas or birthday gifts, but they can be fun any time. Come up with creative hiding spots and clues, with some kind of "treasure" at the end (maybe one of those cookies you baked). Then watch them have fun figuring out the clues and eventually finding their reward. (And the more clues you make, the longer it will take them to find the treasure.) Afterward, have the kids make a scavenger hunt for you! They'll spend a lot of time writing the clues and finding hiding spots, and it encourages them to be imaginative. Just try not to find their clues too quickly!
Make-Your-Own Board Game
We love board games, but sometimes we get "board" with the ones we have. Time to make a new one! Kids can use regular paper, but ideally some poster board or anything larger than 8.5"x11" would work well. The kids can make their own squares on the board, and come up with creative ideas for what happens when you land on each space. They can find random objects around the house to use as player tokens, or make their own. The time will pass quickly while they make the board and while you play. And the best part is that if they don't like anything about the game, they can change it or come up with a new one!
So the next time you're wondering what to do with the kids this summer on those days when the weather isn't cooperating, you now have a few ideas for kids of any age.
Wondering what to do about child care? We can help with that too! Call us at (518) 348-0400 and see what we have to offer.