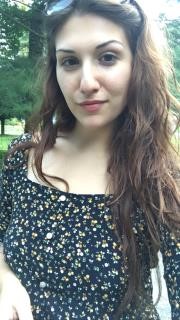 With daycares and camps at limited capacity or closed this summer, child care options for parents are fewer than usual. If you're looking for help with child care this summer, we'd like to introduce you to our summer caregiver spotlight!
Meet Adriana
Adriana is new to the area and is a former Pre-K teacher. She has experience caring for toddlers through school-age children, and she is CPR/AED/First Aid certified. Adriana is currently attending classes at HVCC and pursuing a nursing degree.
"I truly enjoy working with children and couldn't find myself doing anything else," Adriana says. "I like animals, yoga, being outside, playing volleyball, baking, and music!"
Adriana's family is from Westchester county, and they lived in Italy for a year where she attended first grade.
"I am dynamic and can change my approach to fit the needs of children and parents," she says. "I am self-aware and have a love for children and learning. Caretaking, patience, and flexibility are some of my strengths."
Ideally, Adriana is looking for a family that likes to stay active, has pets, and one that would like to give her autonomy and a lot of responsibilities.
Please contact us at (518) 348-0400 to request Adriana, or if you need any help with child care, senior care, housekeeping, running errands, and more!