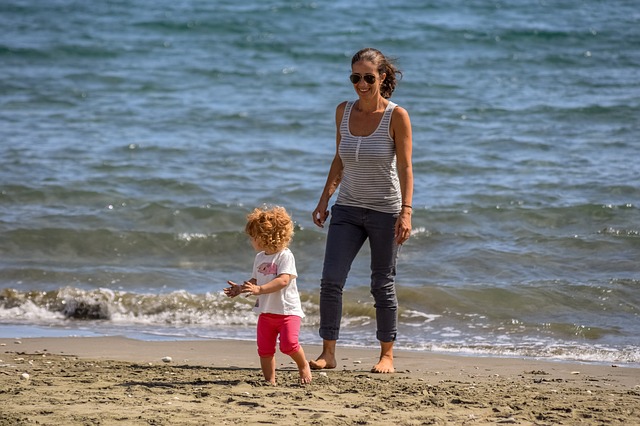 Memorial Day weekend is the unofficial start to summer, and that means hot weather and time spent by the pool or on the beach. The summer heat also means showing more skin and dressing much more casually, and parents may have concerns about their nanny's attire. What can you tell your nanny about how to dress in summer?
The first thing to remember is that as your nanny's employer, you set the rules regarding what your nanny wears to work. Even if the nanny takes the kids out of the house, she is still on the clock and you have the right to enforce a dress code. A helpful tip is to include this information in your work agreement or employee handbook, so everyone is on the same page regarding clothing expectations.
Nannies can dress professionally even when the job duties call for playing in a swimming pool or watching the kids run through sprinklers. Here is our advice on dressing appropriately in warmer weather.
Suggestions for What Not to Wear
High heels – even if you are confident you can walk in them (or more likely run in them), they are not suitable while caring for very active children.
Sandals – depending on the activities you have planned for the day, open-toed shoes may prove challenging when chasing kids around the playground or park. Plus you never know what will get spilled on those toes.
A favorite, stylish, expensive outfit – it will get ruined, either by spit-up, food, arts and crafts materials, or most likely it will get soaking wet from summer water play.
Low-cut shirts – nannies should always dress appropriately while in the children's presence, and smaller kids will certainly pull and tug at shirts, so the lower a shirt is cut, the more "exposure" you risk.
Short shorts – again, you want to be a role model for the children and wearing short shorts, "Daisy Dukes," etc., should not be considered proper nanny attire.
Long, dangling earrings or jewelry – be careful with this as well. Long earrings and necklaces can get pulled and caught on things, particularly if you're running around a playground.
Swimwear – no bikinis, please! Anything too revealing is inappropriate when caring for children.
Suggestions for What to Wear
Comfy clothes – you want clothes that will stretch, not tear, when they are pulled. Cotton shirts will make the heat more bearable, and are durable.
Tank tops – these are fine as long as they are not low-cut; spaghetti straps are probably too revealing.
Cargo shorts or pants – these are a great way to keep cool and comfy, plus you'll need those pockets for all the treasures the kids will find at the park or beach!
Comfy shoes – you need to be able to run and be active! Comfortable sneakers are always a good choice.
Rain gear – rainstorms can pop up unexpectedly around here during the summer, so if you're outdoors with the kids, having a raincoat or poncho may come in handy (as will an umbrella).
Sweatshirt/sweater – sometimes the temperature drops lower than predicted, even during the summer, especially if it's a windy day by the lake, so keep a sweatshirt or sweater around just in case.
Nannies can follow a dress code and still be comfortable during the summer months! Please contact us if you have any questions at (518)348-0400.