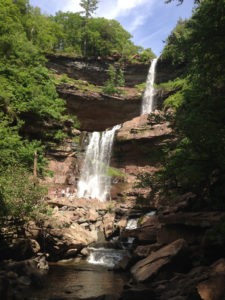 Parents and nannies are often on the lookout for new ideas for keeping the kids entertained. But sometimes the usual local haunts and activities just won't cut it. Sometimes you need to pile into the car and hit the road! Luckily the Capital Region of New York offers plenty to do just a short drive from the Albany, Schenectady, Saratoga, and Troy areas. Here are eight places that are sure to be fun for both you and the youngsters.
Cooperstown – just 90 minutes from Albany, this little town is world famous for the National Baseball Hall of Fame. But even if you don't have baseball fans in your family, there is plenty else to see and do. The Farmer's Museum is one of the oldest "living history museums," featuring exhibits, craft demonstrations, and hand-on activities that show what life was like centuries ago. It's fun and educational for all ages. There is boating and kayaking on Otsego Lake (also known as Glimmerglass Lake), and the cute town features lots of shopping and dining.
Lake George – the "Queen of American Lakes" is an hour from Albany, and has plenty to offer for the whole family. Miniature golf courses and ice cream shops can be found all around Lake George Village, with great shopping and dining along the waterfront. Numerous types of boat cruises and other water activities are always popular, including swimming in the sparkly clear water. There hiking trails in the hills surrounding the lake, and the historically-inclined will enjoy Fort William Henry, French and Indian War site from the 1700's.
Howe Caverns – an absolutely stunning adventure, and only 45 minutes from Albany! Several types of cave tours are offered, depending on age and how adventurous you are, but the basic tour is perfect for families of all ages. The enormous caverns are lit with multi-colored lights, highlighting the intricate details of this subterranean wonder. Plus there's a short boat ride on the underground river! Beautiful rock formations and the comfortable year-round temperature make this a must-see for Capital Region families. During the summer, there's an outdoor activity area with zip lines, rock walls, and more.
Manchester, Vermont – the Green Mountains of Vermont are beautiful during every season, and Manchester is a great place to begin exploring. Manchester is an hour and a half from Albany, and you'll find plenty of charming shops, restaurants offering delicious local fare, and historical buildings to wander by. Just outside of town there is a wealth of hiking and biking trails, fishing excursions on local lakes, and just taking in the natural beauty of southern Vermont.
Lake Placid – It might only be a couple of hours from Albany, but this village in the Adirondacks feels like it's a world away. Gorgeous flowers and trees surround the huge lake, and the year-round activities are bound to keep families entertained. In the summer, hike the bridges around High Falls Gorge or the trails at Cobble Hill, or take the mountain bikes out for some action. Of course lots of fun is to be had on the lake itself – waterskiing and tubing, cliff diving, or just a leisurely cruise around the water will hit the spot. The winter season offers some of the best skiing in the Northeast, especially Whiteface Mountain. You can also check out the Olympic Center, the Olympic Jumping Complex, and the Olympic Sports Complex, all created for the 1980 Winter Olympics. The Village of Lake Placid features great dining options at its many restaurants, hotels and resorts, with fun shopping experiences on Main Street, and many cultural activities.
Kaaterskill Falls – Just over an hour away from Albany is one of the most picturesque waterfalls in the region. Kaaterskill Falls is the highest cascading waterfall in New York State, with more than a 260-foot drop! Renowned painters and photographers have captured the beauty of this natural wonder, and the trail to reach the falls is less than 1.5 miles round-trip, making it doable for many kids. However, caution is advised as the rocks near the falls can be very slippery – make sure everyone stays on the marked trail.
Hudson – When you think of the Hudson Valley, the town of Hudson is what should spring to mind. A frequent destination of visitors from New York City looking to escape to the tranquility of Upstate NY, Hudson has lots to offer, and it's only about 45 minutes from Albany. This walkable town features a shopping district, historic architecture, and is home to numerous restaurants of all kinds. Surrounded by farms, there is a focus on local, farm-to-table eating that draws foodies from all over the state. 10 minutes outside of town is the Olana State Historic Site, a 250-acre landscape designed by artist Frederic Edwin Church. The grounds feature a Persian-inspired house at its summit, showcasing amazing panoramic views of the Hudson Valley and Catskill Mountains.
Natural Stone Bridge and Caves Park – Located a little under 90 minutes from Albany in Pottersville, NY, this site includes natural formations that are over a billion years old! Also featuring the largest marble cave entrance in the east, this beautiful area can be explored via a self-guided trail that winds around waterfalls and deep pools. Some of the caves are accessible by foot, but others require spelunking gear. Tours are available during the summer for the more adventurous. Kids can also enjoy the playground, rock walls, gemstone mining, dinosaur bone digs, and there's even a disc golf course for those so inclined.
As you can see, there's fun for everyone – and you don't have to go very far to find it! Have a favorite day trip destination? Tell us about it in the comments. And if you need an extra hand with the kids on one of these trips, or want to leave the little ones behind so you can get away for the day, call us at (518) 348-0400 and we'll send a professional caregiver to help.