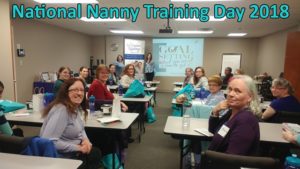 We've been hosting National Nanny Training Day events for more than 10 years now, and this year's was one of the very best! The Capital District Childcare Council's (CDCC) meeting space was perfect for us, and our presenters were fantastic: Charlene Therrien talked about her experiences as a senior caregiver and provided advice for those looking to add senior care to their skill set; Kathleen Harland, an Infant and Toddler Specialist at the CDCC gave great tips and insight into working with those age groups; Miranda VonFricken helped our caregivers with personal and professional goal setting; and Nikki Sementa once again provided CPR certification to our nannies who hadn't yet gone through the training.
We gave away some great raffle prizes, had a delicious lunch, and spent the day with the wonderful caregivers who provide such incredible service to our families. It's truly gratifying to hold this event each year. If you missed it this time, make sure you join us next year!
Here are some photos from the event – click each one to enlarge.