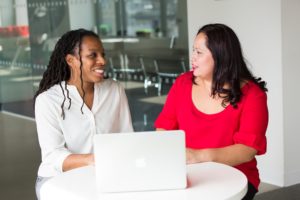 Household employers sometimes struggle with their home being both a personal residence and a workplace for others. The U.S. government enforces many laws and regulations that protect workers against discrimination, so household employers must recognize that their home is their business location, and take the steps to become educated about preventing discrimination in the workplace, including how to avoid discrimination during interviews.
We have discussed previously the types of questions you can and cannot legally ask when interviewing a nanny or other employee, including not being allowed to ask about an applicant's religion, sexual orientation, birthplace, etc. But what if the applicant reveals during an interview that they are part of a protected class?  If an applicant reveals protected information, your primarily responsibility is to make sure you do not allow this information to become a factor in determining whether to hire them.
If an applicant expresses concern as to whether their inclusion in a protected class will harm their chances of being hired, assure them it will not. We would recommend telling them that you will be making the decision solely on their ability to perform the essential functions of the job.
If there is a formal application that you have candidates fill out, you may want to include the following in that document (we also recommend this language if you are posting any job openings online or advertising in print):
"We are an Equal Opportunity Employer. Equal employment opportunity includes, but is not limited to, employment, training, promotion, demotion, transfer, leaves of absence, and termination. All applications will be considered only on the basis of the applicant's knowledge, skills, and ability to perform the essential functions of the position, with or without reasonable accommodation. It is our established policy to provide equal employment opportunities to all qualified persons without regard to race, color, religion, sex, pregnancy, gender, sexual orientation, age, national origin, physical or mental disability, military or veteran status, genetic information, citizenship status, or any other protected classification, in accordance with applicable federal, state, and local laws."
For more information, contact us at (518) 348-0400.