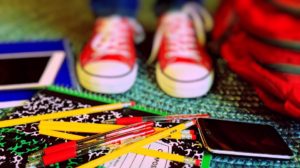 It's almost that time of year again when the relaxed schedules of summer end, and the rigid school day routines begin. With back to school season upon us, many families need to start preparing for trying to get their children back on a schedule. There will be homework and after school activities, and everyone has to be up earlier in the morning and in bed earlier at night. This is something the family prepares their nanny for as well.
Nannies should  know in advance what the criteria is for the school year in terms of the schedule and or any changes that will impact their jobs. Their job description may change with regard to the number of scheduled hours if she is caring for school-aged children, along with the demands of the job, such as getting the children up and ready for school, packing lunches, meeting the children at the bus stop, and helping with homework. If a family currently has a nanny who doesn't usually perform functions like meal preparation, transportation, or homework help, they need to discuss these duties with their nanny and see if she is willing to take on these new tasks. If so, additional compensation may need to be negotiated. If not, it may be time to find a new nanny.
Another thing to consider is the age of the children. Often nannies who have been with a family for a while move on to another position once the children start going to school full-time. Sometimes that nanny will stay with the family and take on other responsibilities like housekeeping and running errands. But some nannies may only want to do full-time child care, and in that case, the nanny will move on to another family. This type of situation can be potentially difficult to deal with. The children she cared for during her employment will certainly have questions about why she's no longer with them, and in the case of younger kids, they may have developed a real attachment that can be difficult to reconcile. The family should be involved in communicating an employee's departure plans with the children. Families may ask the nanny to explain to children why they are leaving the home, what his or her plans are, and how the change may affect the family. Sometimes hearing the news from the nanny may allow the children to understand the situation better.
All in all, this time of year can be a little uneasy with regard to child care, but we are here to make the transition easier for both families and nannies.
Contact us at (518) 348-0400 and let us know how we can help.