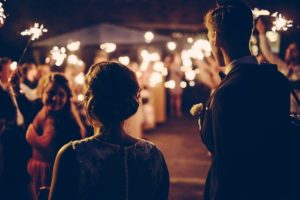 Whether you're hosting or attending a conference, meeting, wedding, or corporate party in the Capital Region, A New England Nanny's professional team is skilled at expertly addressing the individual child care needs of each event, allowing you and your staff the freedom to focus on other things.
Weddings
When it comes to weddings, one issue that may arise is whether or not children should be invited. While some couples may wish to avoid any screaming tantrums or general disruptiveness that young children may provide, they also know that friends or family members may find it difficult to attend the wedding if they cannot bring their kids. This can make for an awkward and uncomfortable situation.
With A New England Nanny, the happy couple doesn't have to make that choice! We work with wedding planners, brides, and hotels to ensure that their child care is covered by our experts. Now you can let your guests bring their children to your wedding, comfortable in the knowledge that they are being well-cared for away from your ceremony.
Conferences and Events
Choosing A New England Nanny to manage an event's child care needs ensures a safe and fun time for the children, as well as a seamless, worry-free experience for you, your staff, and your clientele.
Providing services to groups of any size, A New England Nanny takes great pride in the high-level of service that we can offer you and your clients, including staffing, pre-planning and coordination, scheduling and vendor negotiation as needed, as well as managing on-site representatives.
Our phenomenal team of qualified Child Care Professionals and experienced Event Coordinators work to ensure an enjoyable experience for all children and their parents.
Our Conference & Event Child Care Coordinators expertly manage:
All Planning & Staffing
Family & Child Registration
Activities and/or Kid's Camp
And Much More…
A New England Nanny creates age-appropriate programs designed to meet your clients' specific needs. We are experienced in coordinating everything from simple events that utilize favorite games and activities, to more elaborate events that incorporate bounce houses, live entertainment, and more.
Interested in meeting with our knowledgeable Conference & Event Coordinators? Call (518) 348-0400.