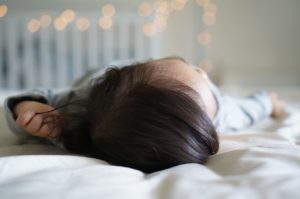 When the Department of Labor's Home Care Final Rule was approved last year, Fair Labor and Standards Act (FLSA) protections were extended to most home care workers in the United States. That meant household employers needed to start complying with the FLSA's requirements; therefore, an employer must determine what time constitutes "hours worked." In some cases, the time a domestic employee spends sleeping at their workplace (the home) can be unpaid, even if the employee is required to be there, leading to the exclusion of sleep time hours for domestic workers.
The Home Care Final Rule did not change any of the requirements regarding sleep time. Depending on the type of domestic employee (a "live-in" employee, those working a 24 hour shift or more, or those working a less than 24 hour shift), the rules for excluding sleep time hours vary. For employees to whom the exclusion rules do apply, if sleep time is interrupted because of work duties, they employee must be paid, and if interruptions prevent the employee from getting a total of at least five hours of sleep, they are entitled to be paid for the entire night.
To help explain the sleep exclusion rules and how they apply, the Department of Labor has provided this handy chart below (click to enlarge).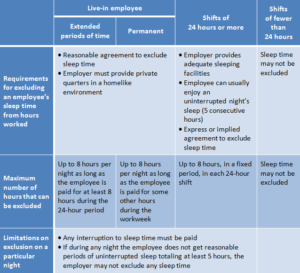 For more information about excluding sleep hours, please see this section of the DOL's website, or contact us at (518) 348-0400.