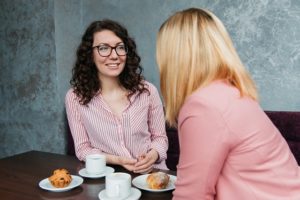 Hiring someone to care for your loved ones is the most important decision a parent can make. Therefore, it's crucial to leave no detail to chance, and that includes the interview process. When it comes to someone who will be working in your home with your family, you need to ensure you are interviewing a nanny the right way.
For face-to-face interviews for your top candidates, you should plan two hours for one nanny interview. Remember, interviewing a nanny is instrumental in helping you gauge whether this person not only has the know-how needed for the job, but how responsible and reliable he or she will be with your children and other family members.
It is good practice to open an interview by reviewing the job requirements (provide a written copy to the applicant) and confirming at the start of the discussion that the applicant can meet them. Prepare a list of questions before the interview so that you can find out certain information, such as what prior experience the interviewee has, what kind of household he or she has worked in, when he or she is able to start work, and so on. This is helpful when multiple candidates are interviewed, allowing the employer to make comparisons and considerations by examining different answers to the same questions.
You need to hear about the candidate's experiences and how he or she handled various situations, so allow the candidate to do the majority of the talking. Ask open-ended questions, requiring the candidate to do more than answer yes or no. Open-ended questions usually begin with the words how, why, when, who, what, and where. For example, ask a nanny candidate, "Why do you want to work with children?" not "Do you like children?"
Another useful interviewing technique is to begin with softer questions, allowing the interviewer to gain a rapport with the candidate. This can help keep him or her talking openly once more difficult or uncomfortable questions or topics are broached.
Use the interview to help determine your household's needs for both today and tomorrow. Think about the future and ask yourself (and maybe even ask your interviewee) if this person you are hiring can do the job now and in six months or even a year from now. Many household employers are so focused on getting someone into the position as soon as possible that they barely think about the future of the household and the employee. You should think about the longevity of the job and ask the candidate if they see themselves in the same position for the desired time period that you are looking for help. For example, will he or she want to work with you until the kids are in school?
It is also possible to ask the candidate you most like whether he or she can work some trial days after the interview and before the offer of employment, which you will reimburse them for. This is an excellent way to determine if you have found the right person for your household's needs. This is also your opportunity to evaluate your perception of the person and to listen to your instinct. Go with your intuition on whether this person will work well for you.
All of this should be considered before offering the candidate a position. It is easy to be swept up in an interviewee's excitement or focus on a common interest, and neglect an important consideration. With just a little preparation before the interview, an employer helps ensure that he or she gathers all the necessary information from the individual candidates.
At A New England Nanny, we help shorten the process by pre-screening all our candidates and sending the best ones to our families to be interviewed. This helps our families find the right nanny faster! For more information, please contact us at (518) 348-0400.