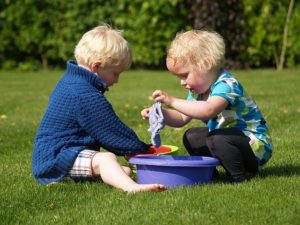 Many families that utilized daycare centers before the coronavirus pandemic may be wary about sending their children back, now that those facilities are reopening. One reason families like to send their kids to daycare is for the social aspect – the children learn to work and play with their peers in a structured setting, preparing them for grade school. For families that want that socialization without the potential safety issues of a facility, we suggest considering a nanny share alternative to daycare.
In a nanny share, a nanny cares for the children of two or more families at the same time. This arrangement can help you save money and maintain your flexibility with child care. Your children will still receive individual attention from the nanny and get the added bonus of socialization with the other kids in your share.
It's important to remember that even though a family may be sharing a nanny, the legal obligations for all involved families remain the same as if it were a one-family, one-nanny relationship.
To ensure a successful nanny share — one that benefits you, your children, other families, and the nanny — make sure you:
Create a work agreement to specify the nanny's schedule, wages, benefits, and responsibilities.
Communicate clearly with the other family/families and with the nanny to eliminate confusing or conflicting messages.
Register with the IRS and the New York State revenue department. A tax identification number will be issued to each family.
Obtain workers' compensation insurance if the nanny will work 40 or more hours in any week. For nanny shares in New York, each family must obtain coverage for the nanny.
Withhold federal and state taxes from each paycheck and complete a Schedule H form when filing their personal income taxes. Each family must do this.
Issue a W-2 to the nanny at the end of the year – again, each family must do this.
If you and another family have agreed to participate in a nanny share or thinking about one, download GTM Payroll's Nanny Sharing Checklist to ensure you are fulfilling your legal obligations, as well as creating a successful business partnership that will benefit both you and the nanny.
Contact us at (518) 348-0400 for more information about setting up a nanny share!