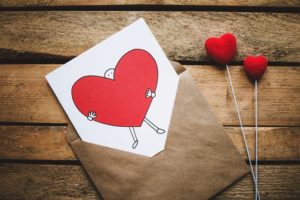 Valentine's Day is upon us, and families and nannies both often wonder how to help the children celebrate. While store-bought cards are thoughtful and convenient, they will adorn the counter or windowsill for a few weeks, then ultimately retire to a drawer somewhere, even with the best of intentions to be saved for years to come. Make this year's gift something sentimental and give the "drawer of memories" a bit more room, with these Valentine's Day gift ideas for parents and nannies.
We asked our friends on Facebook for some of their favorite Valentine's Day gifts to give to parents, as well as some of their favorites to receive as a nanny. Here is a brief list of the most popular responses.
For Parents
A dinner date with the kids
Plan a special dinner at home with the family's favorite foods, and have the children help make everything! Let the kids give the dining room a restaurant name, leave an "RSVP card" for the parents to open in the morning, have the kids create a hand-written menu, then slip it into a sheet protector or laminate it using clear packing tape.
Mommy Money/Daddy Dollars

A new twist on the old classic: coupon books. Most dollar stores sell packs of blank printouts of "money," allowing the children to decorate each dollar and assign it a value. You can help them create a Valentine's Day sales flyer to give their parents! Ideas could include "movie night" or "reverse bedtime" (the children tuck the parents in to bed, and read them a story).
Memories
Parents are often guilty of having stacks of their children's artwork on desks, in drawers, and in boxes, waiting to be put into scrapbooks or frames. Why not create an affordable and fun display for them to admire, display, and store the works of their aspiring artists? By hitting up your local thrift shop or going to an art supply store with a coupon (almost all are available digitally), you could pick up a shadow box (also called a collector's case) for about $5. By carefully placing the most recent masterpiece backed by cork board or a matte to the front of the glass, and using poster putty to keep it in place, you'll have a few inches of space to store previous pieces. (Tip: If you save one piece from each month, you can scan them to have printed as calendars for the holidays!)
For Nannies
Valentine's Day breakfast
Mornings can be hectic for the entire family, the nanny included! But with a bit of prep-work the night before, you can surprise her with a treat to start the day, and let her have some time with the family. You could make heart-shaped pancakes the night before, and reheat them in the toaster or oven a few minutes before the nanny arrives.
Kids Cash

Using the same concept as "Mommy Money" or "Daddy Dollars," give your nanny a Valentine's Day bonus in the form of fun activities to do with the kids! Have them create a sales flyer that caters to her.
Memories
One of the best gifts you could possibly give a nanny for Valentine's Day would be memories. Nannies sometimes have multiple families, each with multiple children in them, so they end up with lots of "stuff." Rather than presenting your nanny with another well-meaning gift certificate or trinket, why not plan an outing for her and the children, and be sure to offer to pay for any photo-ops that are provided at the event. This way, not only will she have the experience, but also a great memory of it. (Bonus: once you see the picture, be sure to scan it or take a very clear picture of the picture, so you can print it and frame it, along with a heartfelt note of thanks!)
Of course if parents just want a night out without the kids to celebrate Valentine's Day, contact us to book a babysitter so you can enjoy the evening, knowing your little ones are being well cared for. Call (518) 348-0400 today!