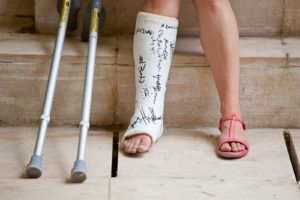 Was your nanny injured on the job? In New York State, you are required to have workers' compensation insurance if you employ a nanny for at least 40 hours per week, or if you employ a live-in nanny. Workers' compensation policies cover you and your employee in case he or she is injured while working in your home or traveling with you as part of the job. Your workers' compensation policy contains a posting notice providing the insurance company name, policy number, and contact information.
Should an injury or illness occur, here are the steps to take:
Contact your workers' compensation carrier if there is an on the job injury or illness as a result of the employment.  The seriousness of the injury does not necessarily matter.  If the employee requires medical care or will be missing work due to the injury or work related illness, the employer should report the incident. Sometimes nothing further comes of the incident except a medical bill. However, there may be complications unknown at the time of the initial incident and reporting the claim can help to keep future bills in check.
Be prepared to provide the claim adjuster with some pertinent information:
Date of incident
Name of employee
Brief description of the injury and how it happened
Your workers' compensation policy number
Phone number or email address on how the adjuster can contact the employee
The adjuster will contact the employee directly for further details.
A form will be sent to the employee to complete.  There will be a section for the employer to fill in their information and employment information, a section for the employee, and a section for the doctor to complete.  The form is then returned to the insurance company.
The adjuster will continue to correspond with the employee and possibly the medical provider until the claim is complete.
Our partner GTM Payroll Services can provide workers' compensation policies for household employers. Contact us at (518) 348-0400 for more information.