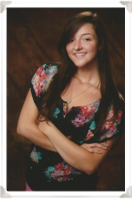 To help celebrate National Nanny Recognition Week, we asked our families for nominations for the Nanny of the Year. After going over all the submissions, we are excited to announce that Kaitlyn Keegan is this year's Nanny of the Year!
Here are some of the reasons she was nominated by her family:
"Although we knew Kaitlyn was a special person when we hired her, she has gone above and beyond our expectations. As it should be, our son's safety is always her first concern; Kaitlyn has great instincts for watching children as they play and making sure they don't go too far away. But once a child's safety has been secured, a great nanny has to think of how to entertain and educate. Kaitlyn has, time and again, come up with creative, age-appropriate ideas for activities. The most impressive thing of all about Kaitlyn is that she takes initiative. After her first couple of weeks working for us, she sent a two-page email full of insightful suggestions of things we do differently about some of [our son's] difficult behavior at home. Kaitlyn's positive and proactive attitude has benefited our family in countless ways, and [our son], who at times resists people and social interaction, asks every day 'When is Kaitlyn coming?'"
Congratulations to Kaitlyn, and to all the nannies out there making a positive impact on their families!