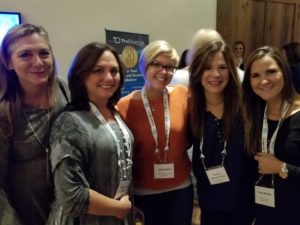 Q & A with Agency Director Melissa Schoonmaker
Next week, Melissa Schoonmaker, Agency Director for A New England Nanny for more than 20 years, will attend the 2018 Association of Premier Nanny Agencies (APNA) Conference in Atlanta, GA. This annual conference brings together more than 100 attendees, mainly comprised of agency owners and staff members from across the country, to discuss issues relevant to nanny agencies, nannies, and families.
Melissa has attended more than 10 of APNA's annual conferences, so we spoke with her about her experiences.
Q: What are some things you've learned at APNA conferences over the years?
Melissa: One of the biggest things I've learned is how to market the agency better through brand awareness. There have been several speakers that have given great advice on this topic, and I've also learned tips from other agency owners. Another thing I've learned is how to better deal with families having difficulties, using good conversation techniques and working through issues in a professional manner. Finally, I've learned about better ways to manage my staff, both those who work in the office and the caregivers who work in people's homes.
Q: How does attending these conferences benefit you as an agency director?
Melissa: These conferences give me the opportunity to network with my professional peers, which boosts my morale as I talk with people in my industry who have the same challenges and successes. It's great to have conversations about how other agencies deal with certain issues in their part of the country, and to learn new and exciting things happening in the household employment field. It also helps me regain my focus on what I should be putting more time into regarding the agency. The guest speakers are always terrific, discussing topics and issues relevant to me both personally and professionally. It's refreshing to be around colleagues in the same industry!
Q: How does attending these conferences impact how you manage your staff?
Melissa: One thing I've learned from APNA conferences is being able to look at different referral incentives for my nannies, interesting and unique ways I can get them to refer not just other nannies to work for us, but also to refer families who could use our services. I've also gotten good advice and tips on ways to retain my nannies, and insights on the interview process that have really helped me to hire better quality caregivers.
Q: What are some fun or interesting moments from past conferences?
Melissa: A few years ago, the conference was held in San Antonio, Texas, a place I'd heard great things about but had never been to. APNA organized an outing to the Riverwalk area of the city, which features shops and restaurants lining the river that flows through town. We took a boat cruise on the river and strolled around the shops – it was absolutely beautiful! My other favorite conference was in Las Vegas – it's such an exciting town, and getting to have fun there with other agency colleagues was a real highlight for me.
Q: Anything else to add?
Melissa: A New England Nanny constantly strives to improve the experience our families and nannies receive, and by attending industry conferences like this one and the annual International Nanny Association (INA) Conference, I'm hoping to demonstrate our committment to that. I bring back the things I learn and share them with Debra Medina, our Assistant Director, and together we work on implementing practices we feel will benefit our business, our families, and our caregivers.
For more information, contact us at (518) 348-0400.